Loveable Loo Store is Taking a Break!
We are taking a baby break! Our production line is pausing to welcome the newest addition to our family.
If you'd like to be added to our wait list, be sure to SUBSCRIBE below!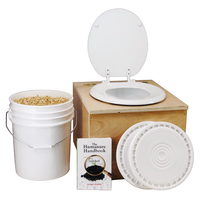 The Loveable Loo Compost Toilet
Working in partnership with Joseph Jenkins of "Humanure Handbook" fame, we're proud to bring back the iconic Loveable Loo toilet kits for purchase online.
The Loveable Loo is a compost toilet for permanent indoor household use. Ideal for your office, bedroom, shop, garage, barn, hunting shack, or vacation camp. What makes the Loveable Loo so versatile? Its simple, zero-installation design. The Loveable Loo requires no water, electricity, plumbing, venting or chemicals. It's odor-free when properly managed, and no urine separation is required.
Free shipping via UPS to the lower 48 United States. Easy assembly required (all you need is a Phillips screwdriver.) 
View Pricing
Praise for Joseph Jenkin's Loveable Loo
"Thank you so much for your efforts, I have been confounded by the off grid human waste dilemma and YOU have the solution THANK YOU!!! My son and I will be off grid for 6 months at a time and man am I glad to have found you. After a lot of research yours makes so much sense and your long time experience sold me. I will be in touch, thanks again!"
"Just wanted to send a note and say how happy I am with the new loo. I put it in a temporary storage shed here in Vermont while I wait for my yurt to be installed. It works like a charm! Got some sawdust for free at a local timber framing business and it works great. The compost bin is done and ready. Thanks again. You guys rock!"
"Love this toilet buying another one. Going to use in our guest house in back of my property. Very easy to assemble and has no smell. I use one in our shop too!! Don't need water or electricity. Does not smell, very compact, and can be used anywhere."
"We had not planned to convert to a compost toilet but we do not have a mains water supply and last summer was particularly dry for us in central Portugal with no rain for 10 months. This meant flushing the toilet was a complete waste of water. I reluctantly agreed to my wife's suggestion to convert to a compost toilet system and after reading the handbook and actually using the system, I can say I have been converted."
"I bought one of your Lovable Loo packages 8 years ago and love, love, love having this kind of toilet. Thank you so much for all of the work you do on this subject."
"Just received our loveable loo, thrilled with it. Thank you for excellent service and product at incredibly fair price. Will be spreading the word."
"I have been looking at composting toilets for awhile and was getting close to making a purchase. I had not checked out your products yet and a friend suggested that I did because he had used one for a year. After just watching a few videos I was convinced this was absolutely the best system, for every reason. I commend you and everyone associated with the Loveable Loo. I love your product and mission and I will be spreading the word - trying to make more converts."
"I bought your [Humanure Handbook] few years back and finally made a sawdust toilet last summer from your design plans for my yurt in VT. Just want you to know I am EXTREMELY happy with it. I had tried a number of other methods to deal with my humanure with unsatisfactory results. I really like using the toilet because it is quiet, no sound. Kind of a zen experience...no need to meditate just poop and pee-:). Anyway I just wanted to thank you."
"I was fortunate enough to be loaned a copy of the Humanure Handbook and to be honest, I can't say I was too enthused about reading about poo. However, of all the books I have read, I can honestly say I got through this one very quickly. The book is so well written both from a knowledge point of view and from a humorous point of view too. Some information was completely shocking and has certainly changed the way I view things."